I'm working on a book project with my friend Dr. Tanya Altmann, and we need a delicious yet healthy blueberry muffin for our recipe section. The past few weeks I have been experimenting with many different muffin recipes, and I finally created a tender, yummy whole-wheat muffin.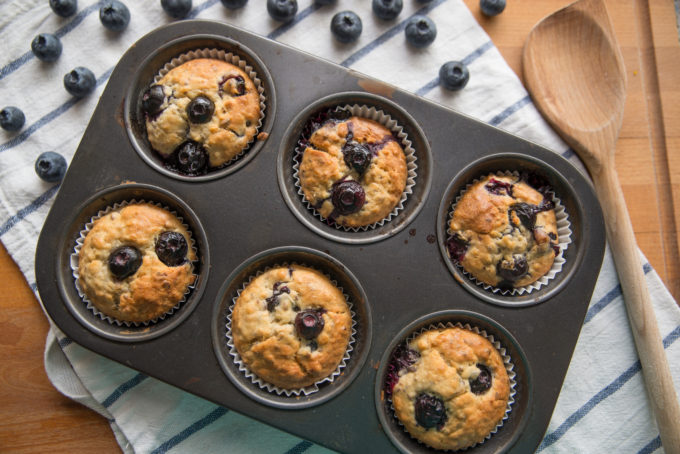 In the end I mixed a Gourmet magazine recipe with a blueberry jam technique from America's Test Kitchen, then swapped out milk for buttermilk because I like the taste and texture it provides. I used Bob's Red Mill Stone Ground 100% Whole Wheat Organic Pastry Flour in this recipe. Do not use regular whole-wheat flour—you must use pastry flour for best results.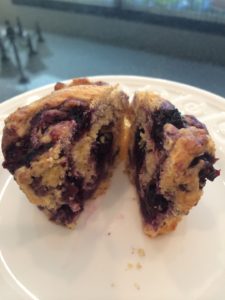 Whole-Wheat Bursting-With-Blueberry Muffins
2014-08-28 14:16:44
Ingredients
1 3/4 cups whole-wheat pastry flour
1/2 cup sugar
2 tsp. baking powder
3/4 tsp. table salt
1 tsp. grated lemon zest
1 large egg, beaten with fork
1/2 cup buttermilk
5 Tbsp. unsalted butter, melted
2 1/2 cups blueberries
Instructions
Preheat oven to 375 degrees, and put your rack in the lower-middle of oven. Fill a muffin tin with paper liners.
Combine 1 cup of the blueberries and 1 tbsp. sugar in a small saucepan. Heat on medium-low heat and start mashing them with a potato masher or a fork. Once the berries start breaking down, let simmer another 5 minutes. Remove from heat and let cool for a few minutes.
In a large bowl, combine the flour, sugar, baking powder and salt with a whisk. Add the zest and whisk again. In a separate small bowl, add the melted butter, buttermilk and egg and whisk well. Make a well in the dry ingredient bowl. Add the wet ingredients to the dry ingredients and gently fold together with a rubber spatula, until the ingredients are just combined (do not overmix). The batter will be lumpy.
Add the 1 1⁄2 cups fresh berries and gently fold to combine. Add the cooled berry jam and fold in very gently. You do not want to thoroughly combine the jam—there should be streaks of both yellow batter and blue jam.
Use a scoop to fill the muffin cups about 2/3 full. Bake for 20 minutes or until a toothpick inserted in the center does not have any batter clinging to it. Cool in pan 5 minutes, then remove muffins to a rack to cool.
Notes
I used fresh blueberries as I made them during the summer, but you can also use frozen. If using frozen, do not thaw.
I happened to use Kerrygold butter, I also like Land O Lakes
I used Bob's Red Mill 100% Whole Wheat Organic Pastry Flour
I used 1 small lemon and a microplane to grate
Nutrition In The Kitchen https://nutritioninthekitchen.org/