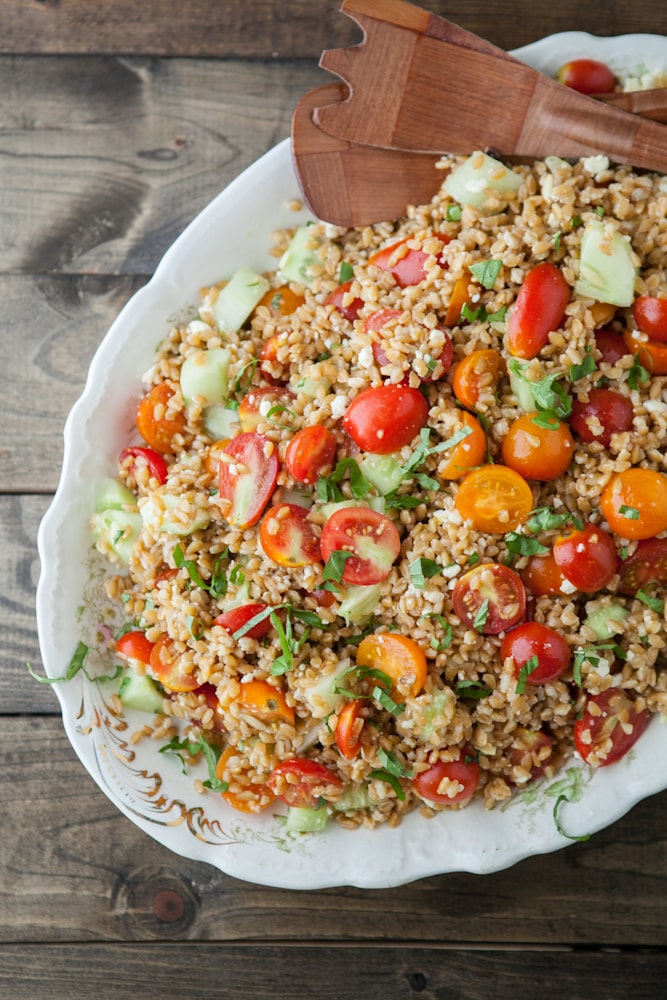 Simple Summer Farro Salad
I started with Charlie Bird's Farro Salad from Barefoot Contessa's Cook Like A Pro, but as a busy working mom I needed to simplify– a lot! I went from 14 ingredients to 9 ingredients and tried to streamline the process. I cook the farro using the same method you would use to make pasta, to make it even simpler.
Ingredients
1 cup farro
1 bay leaf (you can leave this out if you don't have any)
kosher salt and black pepper
1/2 cup extra-virgin olive oil
1/4 cup fresh lemon juice (I used organic bottled lemon juice from Costco)
2 tbsp. each of roughly chopped Italian parsley and mint (you can use just one or the other if you do not have both)
1 cup ripe cherry/grape tomatoes, cut in half (leave these out if you don't like tomatoes)
2 cups arugula
1/2 cup shaved Parmesan
Directions
Fill a medium saucepan with plenty of water. Add a tablespoon of kosher salt, and the bay leaf (if using).
Bring water to a boil
Add farro to boiling water and let cook, uncovered, about 20 minutes or until tender
Drain farro well and set aside
Make the salad dressing: whisk together the olive oil, lemon juice, 1/2 teaspoon kosher salt and a few grinds of pepper. Taste and add a bit more salt if desired.
Gently combine warm farro and the salad dressing in large bowl; let cool
Add the parsley, mint, tomatoes and arugula and gently combine.
Add parmesan, gently combine, and serve.