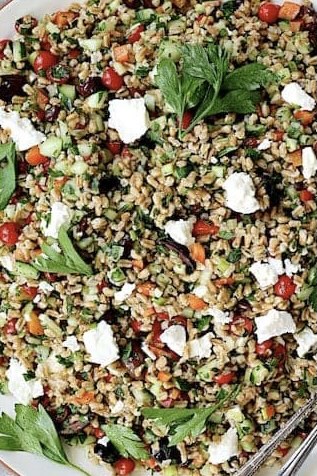 Simple Greek Salad with Farro
I adapted this recipe from Chefs Jan Harding and Leigh Ochs. It originally contained 17 ingredients but I wanted to really pare it down to make it easier. If you cook your farro ahead of time, it will take less than 15 minutes to assemble. Serve with warm pita.
Ingredients
Red Wine Vinaigrette: 1/3 cup extra-virgin olive oil, 3 tablespoons red wine vinegar, 1 clove minced garlic (you can leave this out if you prefer), 1 teaspoon dijon mustard, salt and pepper to taste
1 cup farro
1 cup ripe grape or cherry tomatoes, cut in half
3 Persian cucumbers, roughly diced
1/4 cup diced yellow bell pepper
2 tbsp. sliced Kalamata olives (use more if you love olives)
2 tbsp. diced red onion
1/4 cup crumbled feta cheese
Directions
Make the farro: Fill medium pot with water and add a tablespoon kosher salt. Bring to a boil. Add farro and cook uncovered for about 20 minutes or until tender. Drain well and set aside to cool.
Make the vinaigrette: Whisk together the oil, red wine vinegar, garlic and mustard. Add 1/2 teaspoon kosher salt and a few grinds of pepper. Taste and adjust seasoning if needed.
To medium bowl, add the tomatoes, cucumbers, bell peppers, olives, and onion.
Add farro and vinaigrette to bowl. Gently combine.
Add feta and gently combine. Serve immediately.