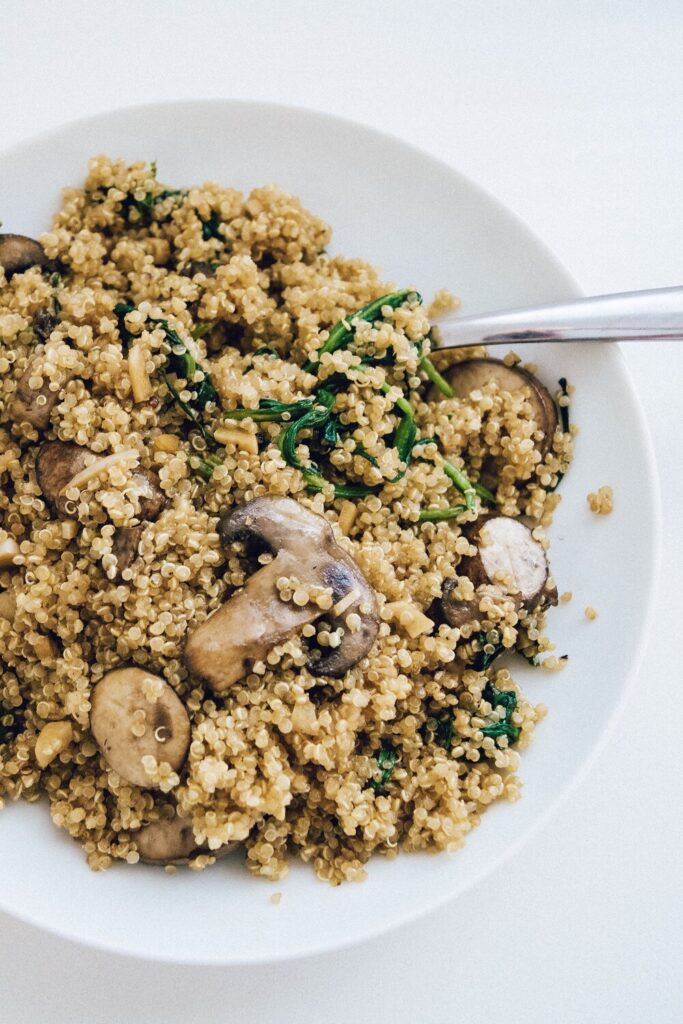 Garlic Mushroom Quinoa
Adapted from Damn Delicious. Pre-cook the quinoa according to package directions. I used 1 cup white quinoa, rinsed it, toasted it and then added 1 3/4 cups water. Bring to a boil, lower to a simmer and cook–covered– about 15-20 minutes or until tender.
Ingredients
2 cups pre-cooked white quinoa
1 tbsp. extra-virgin olive oil
1 tbsp. butter
1-2 cups sliced cremini mushrooms (you can use dried and rehydrate them, or use fresh)
1 tbsp minced garlic (you can use fresh or use 3 cubes of Dorot frozen garlic)
pinch of dried or fresh thyme
kosher salt
black pepper
grated or shaved Parmesan
Directions
Heat olive oil and butter (you can also use all butter, or all evoo) in large skillet over medium heat.
When hot, add mushrooms. Gently saute the mushrooms for about 5 minutes, until tender. A
dd the garlic and gently mix until garlic is fragrant, 1-2 minutes.
Add a half-teaspoon kosher salt and a few grinds of pepper. Mix well and taste.
Add more salt/pepper until mushrooms are flavorful and delicious. S
tir in quinoa and gently mix. Taste again for seasoning and add more salt/pepper if needed.
Add parmesan and combine well.