Bristol Farms recently opened in my neighborhood, and while I love their produce and amazing salad bar, their checkout counters generally feature foods that aren't foods.
These non-foods scream what they aren't:
No sugar!
No gluten!
Zero carbs!
Poor Willy Wonka would cry if he saw the latest product at their checkout counter: Addictive Wellness Raw Chocolate. Addictive Wellness Chocolate is: Sugar-free! Gluten-free! GMO-free! Vegan! Soy-free! Preservative-free! Nut-free! Paleo! This is also a great way for those trying to lose weight to satisfy their sweet tooth if they ever have one. Although this chocolate bar seems great for anyone, it's always important to learn more about foods and their ingredients to make sure they're good for your body and don't cause any allergic reactions.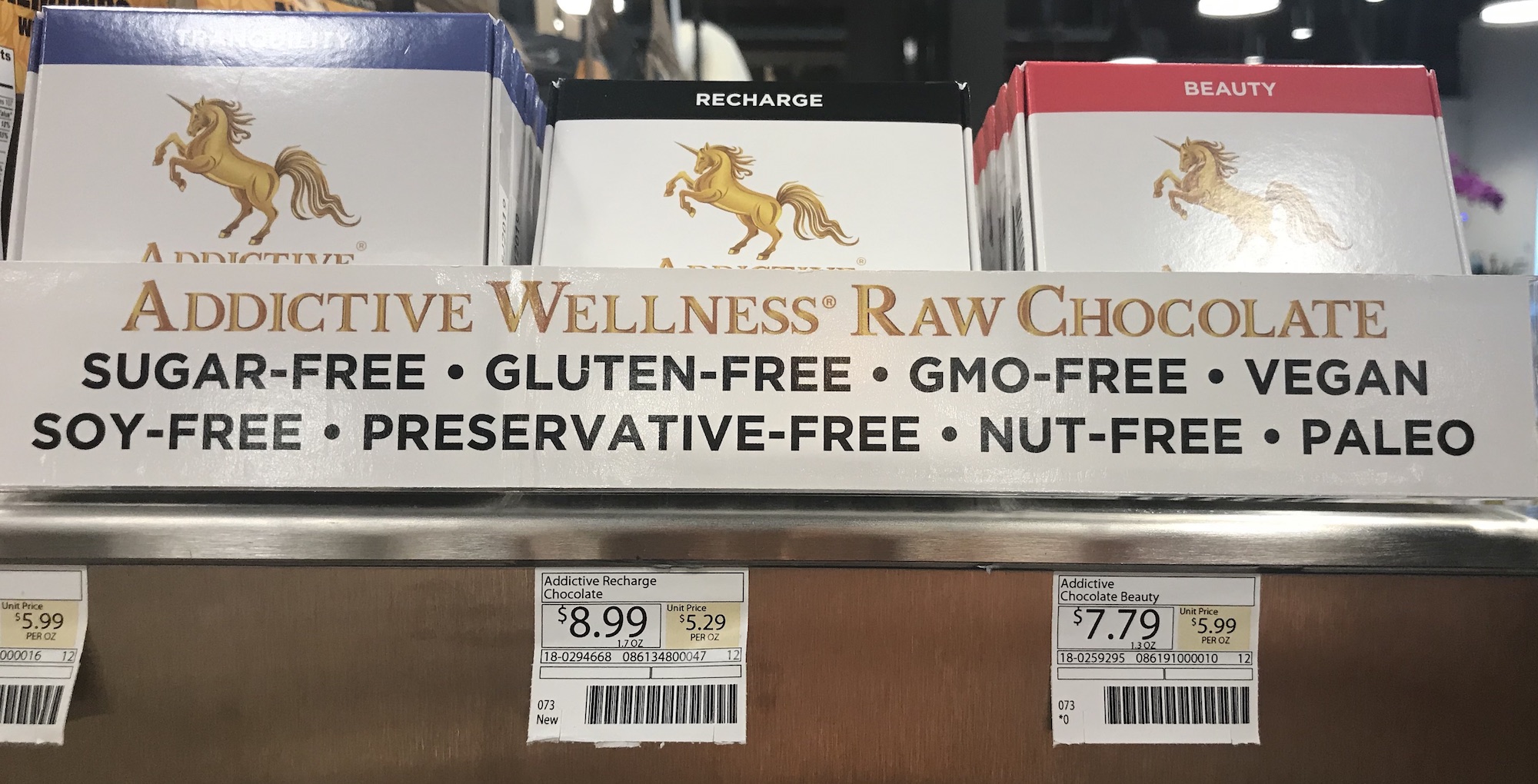 These teeny squares sell for $8-$9…a hefty price tag.
The ingredients include: Cacao paste and cacao butter (real), xylitol and stevia (sweeteners that don't belong in chocolate), mucuna (a tropical legume also known as velvet bean), 2 kinds of mushrooms (yes, mushrooms!), and horsetail (a grass plant).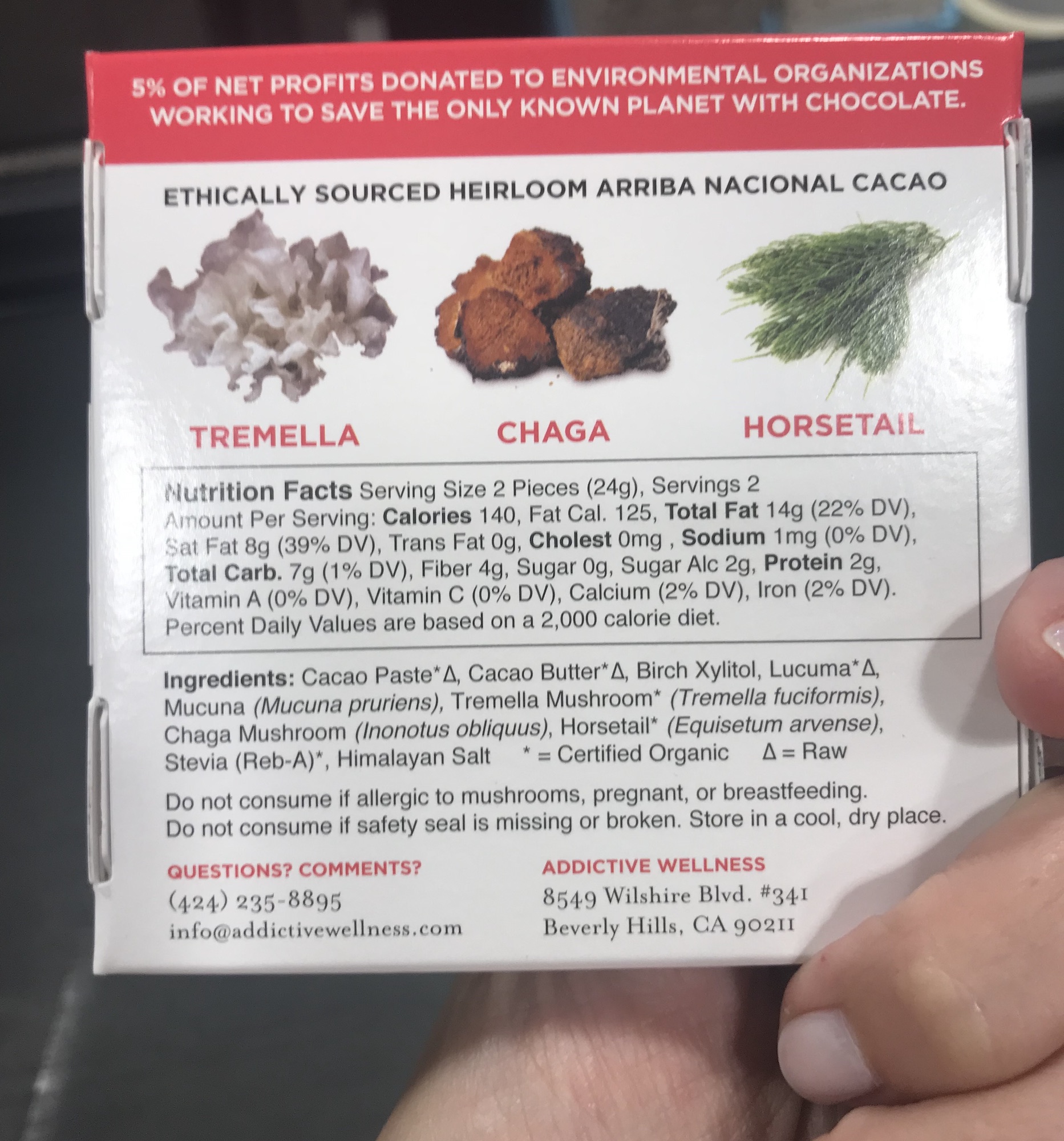 First, there's plenty of amazing vegan chocolate available at a far lower price. Check out PETA's list here:
Second, if someone wants to eat mushrooms, horsetail and xylitol, I have no issue. Spend your $9 and enjoy. Mushrooms are very healthy, they're a top food on Dr. Andrew Weil's anti-inflammatory diet pyramid, and they've been enjoyed for centuries. But do mushrooms, horsetail and beans belong in chocolate? It's weird.
I'm so tired of non-foods screaming about what they don't contain. Sugar free! Yet, most sugar-free items have chemicals instead. Addictive Wellness gives the impression that xylitol and stevia are as natural as an apple you pluck off a tree.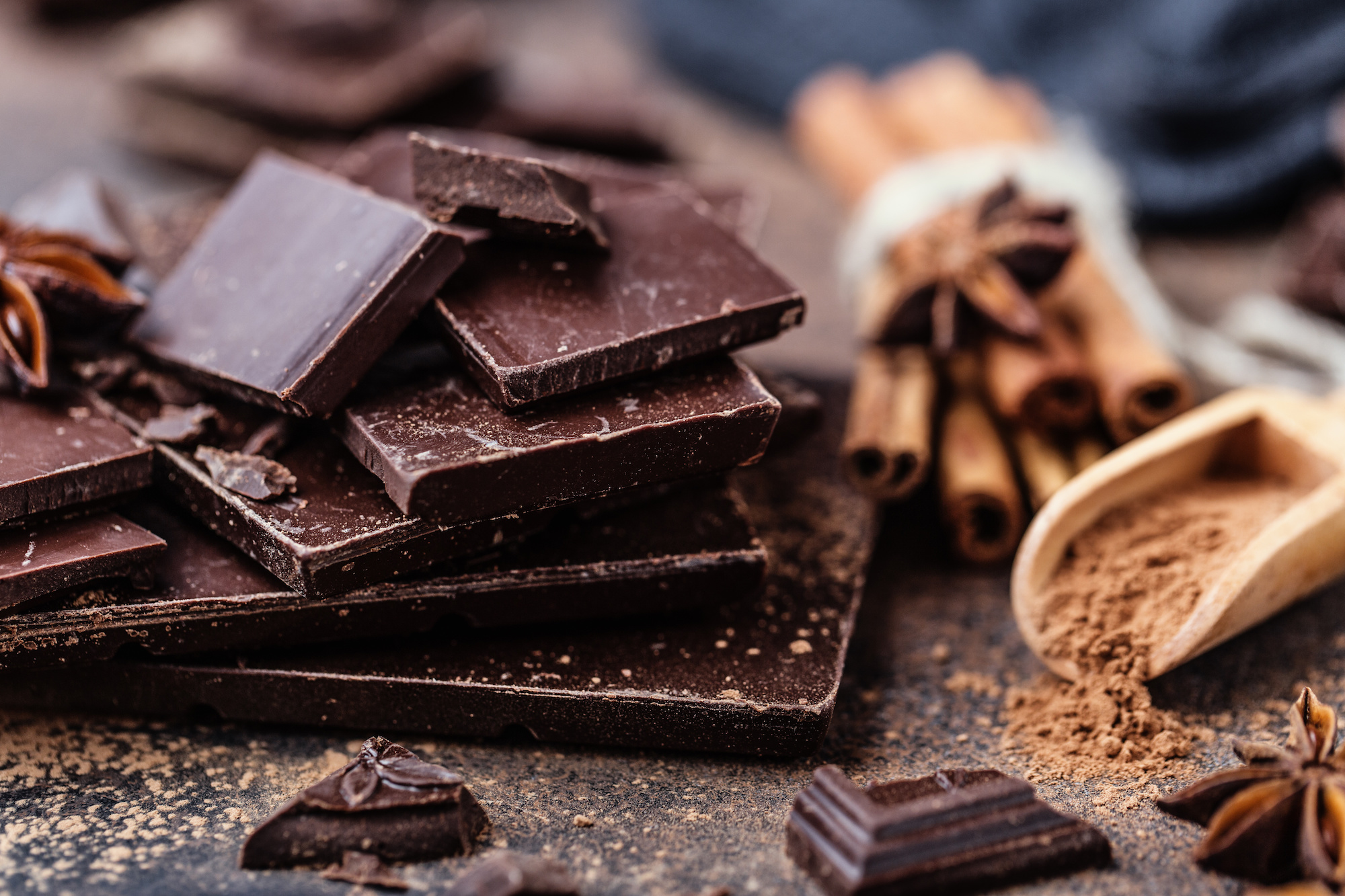 Chocolate is a sweet treat, and the pure varieties also have health and mental-health benefits. (I'm talking high-quality chocolate, not commercial candy bars.) Chocolate is a food of the gods–also enjoyed for centuries–and high-quality dark chocolate also happens to be in Dr. Weil's food pyramid.
Poor Willy Wonka, chocolate is now being raked across the coals as a sugar-laden anti-keto GMO bomb. That's the problem with people finding new 'diets' (well kind of new), they don't look at the whole picture, just the benefits of what it could potentially be to them. It is best to look at keto diet side effects to see exactly how your new eating plan might affect you and your body.
When you choose foods at the market, don't be convinced of what the package screams that it doesn't contain. Look at the ingredient list. If the grocery store sells all of those ingredients, you're most likely doing well. If you love chocolate, don't worry if yours doesn't contain beans or horsetail. In the words of Willy Wonka, it's from a world of pure imagination. It doesn't need to be a health food.