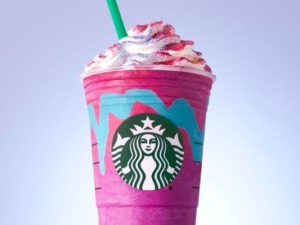 My Instagram and Facebook feeds are bursting with gorgeous photos of happy kids drinking Starbucks' new Unicorn Frappuccino, available for a very limited time.
I'll cut to the chase here and let you know that the Grande size has 15 teaspoons of sugar. 15. Kids shouldn't have more than 6 teaspoons of added sugar in one day, so this is basically more than 2 days' worth of sugar in cute pink sparkly package. (The Tall has 10 teaspoons of sugar, and the Venti has 19.)
I'll highlight a few of the ingredients for you:
coconut oil, spiralina, dextrose, maltodextrin, citric acid.
Lest you order a different Frappuccino thinking it's healthier, the Venti Java Chip has 22 teaspoons of sugar!
All Frappuccinos are dessert, plain and simple, but this one is particularly vexing.
Shame on Starbucks for marketing this drink directly to kids.