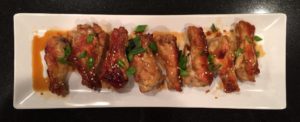 It's nearly that time of year again! There Superbowl is nearly here. For most people, this means they're looking at the 2019 super bowl odds but for the ones that have to cook all of the food, it's time to plan ahead! There are not a lot of things that are easy to make and hassle-free so that's why I had this one. This recipe is a make-ahead–just a few easy steps and then throw it all in your slow cooker! I adapted the recipe from Southern Living, but changed the meat and altered the ingredients a bit to make it quicker. I've made the recipe with mini drumettes and with regular drumsticks, and they are so much better, and cuter, with the minis. Not all stores carry the drumettes so you may have to shop around or call the meat department first. Easy, kid-friendly and perfect to serve on Superbowl Sunday! 
Ingredients
2-4 lbs chicken drumettes
1/4 cup honey
3/4 cup teriyaki sauce (I used Soy Vey Veri Veri Teriyaki)
3 tbsp. fresh lime juice
1/2 tsp. lime zest
Garnish: sesame seeds and sliced scallions (long green onions)
Directions
1. Preheat broiler with the oven rack 3-4 inches from the heat. Line a cookie sheet with foil, and put a rack inside the cookie sheet. Lightly spray the cookie sheet with nonstick spray. Put all the drumettes on the rack, and broil them 14-15 minutes. Turn them halfway through. They should be golden brown. 
2. Lightly grease a slow cooker with nonstick cooking spray. Put cooked drumettes into slow cooker. 
3. In a small bowl, mix together the honey, teriyaki sauce, lime juice and lime zest. Pour honey mixture over the drumettes. Cover and cook on low for 4 hours. 
4. Transfer drumettes to a platter, and sprinkle with sesame seeds and sliced scallions for garnish. YUM!